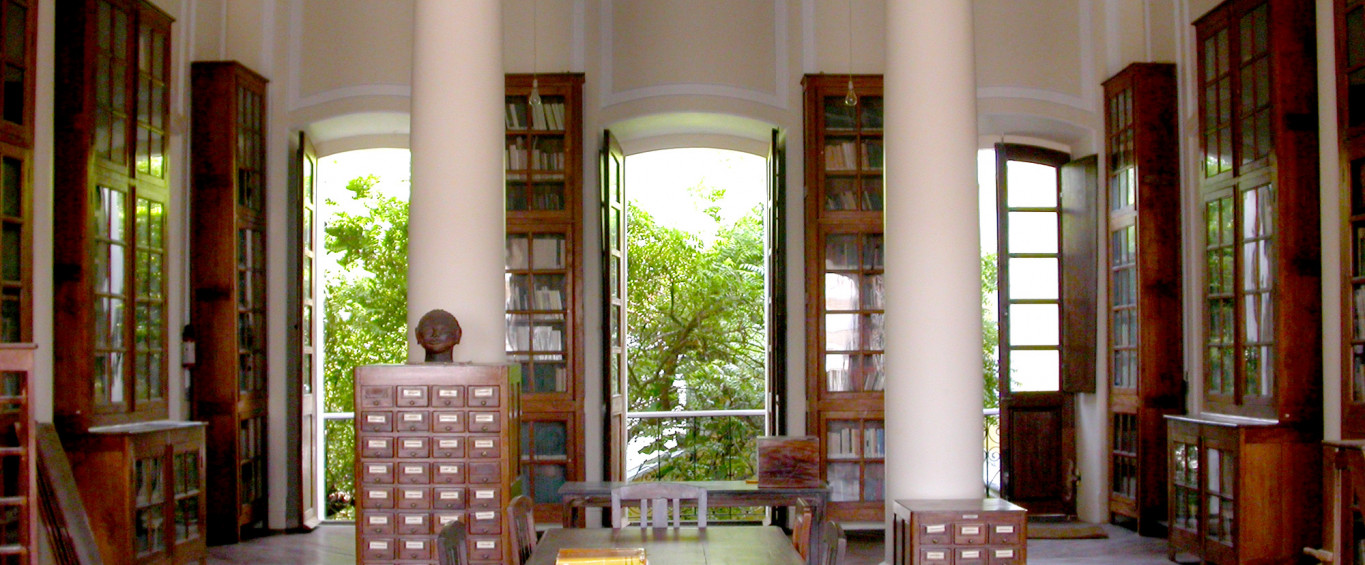 Library
École française d'Extrême-Orient: Pondicherry Center Library
The Pondicherry Center library is home to an exceptional collection, built thanks to materials from the various programs carried out by the EFEO Pondicherry Research Center. Holdings comprise11,400 printed volumes, 46 periodical titles and 1,633 palm-leaf manuscripts, as well as the private collections of Marguerite Adiceam and Françoise L'Hernault. The collection spans all branches of Indology: art, archeology, epigraphy, grammar, linguistics, Sanskrit and Tamil literature, traditional medicine, philosophy, religion, etc. EFEO researchers also benefit from access to the IFP – French Institute of Pondicherry's well-stocked Indology Library, which it helped create, and housed up to 2002.
Library holdings include a collection of plans and elevations of South Indian temples, Tamil and colonial houses, maps of South-Indian towns and cities, and a unique collection of 1,633 palm-leaf manuscripts, most of which are devoted to Vaishnava texts in Sanskrit, Tamil, and Manipravalam (a mixture of Sanskrit and Tamil). 
The Pondicherry Library has always sought to meet the specific needs of the philological projects undertaken by its Indology research teams. This has resulted in several unique collections, for example, a collection of Vaishnava.
The EFEO and IFP the manuscript collections are recognized for their historic significance, and fittingly, in 2005, UNESCO inscribed the "Shaiva Manuscripts of Pondicherry" in its Memory of the World Register. The collection is currently being catalogued.
The Library recently launched an initiative to archive its digital data in via the SITA archive (South Indian Temple Archives).
Lending terms
Library loans are exclusively reserved for EFEO faculty, staff and researchers.
École française d'Extrême-Orient: Pondicherry Center Library
Contact and localisation
Centre d'Indologie Po Box 151
16-19 rue Dumas
Pondichéry
Puducherry
605 001
India
+ 91 413 233 45 39
Schedule
Mon. – Fri.: 8:30 am - 12:30 pm; 2:00 pm - 5:30 pm
Closed: Public Holidays
Service and equipment