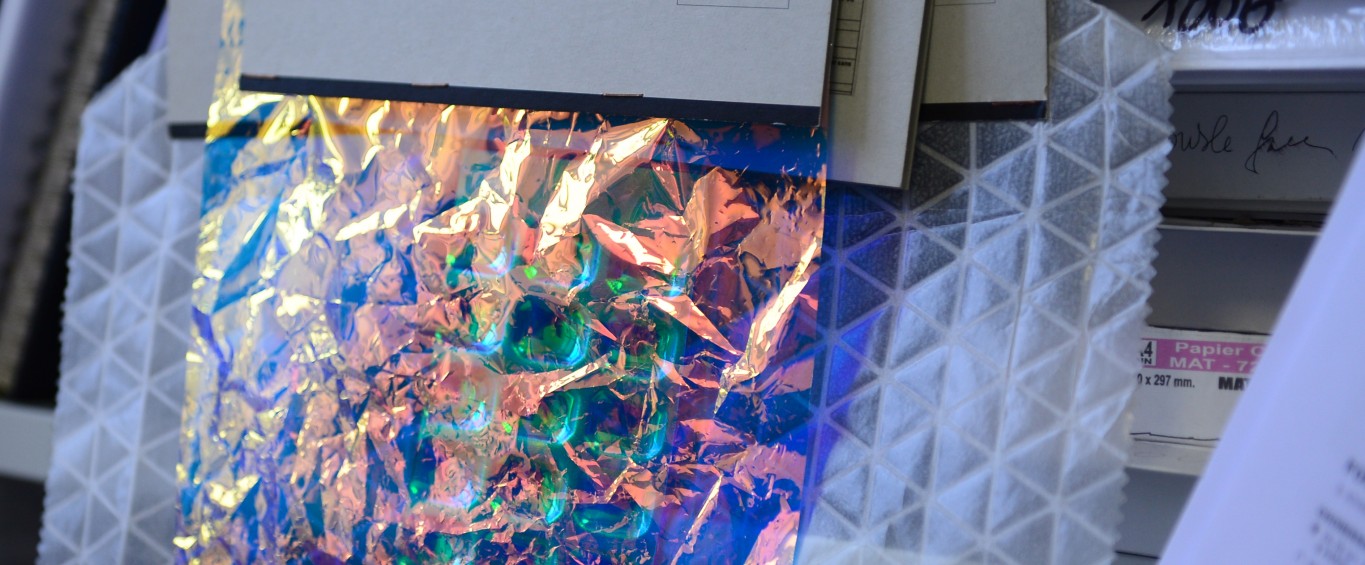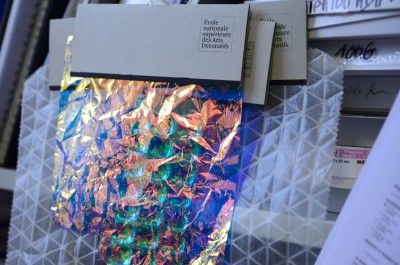 Focus
The Materials Library of the EnsAD
The materials library (matéiauthèque) of the École nationale supérieure des Arts Décoratifs is a unique feature in the PSL landscape, at once a resource centre and a space for advice and interaction between students and the professional world. To discover more about the collections and activities of the EnsAD materials library, we met with its director, Isabelle Humbert.
Project Background
The materials library grew out of the textile library that was first created in 1997 as part of the EnsAD textile design course. Isabelle Humbert, then a technical assistant in the school's textile department and a textile designer and colourist working in the fashion industry, was named as its director. Since the textile library was constituted ex nihilo, Humbert had to assemble its collections whilst at the same time advising students in their choice of materials and helping them to establish contact with suppliers.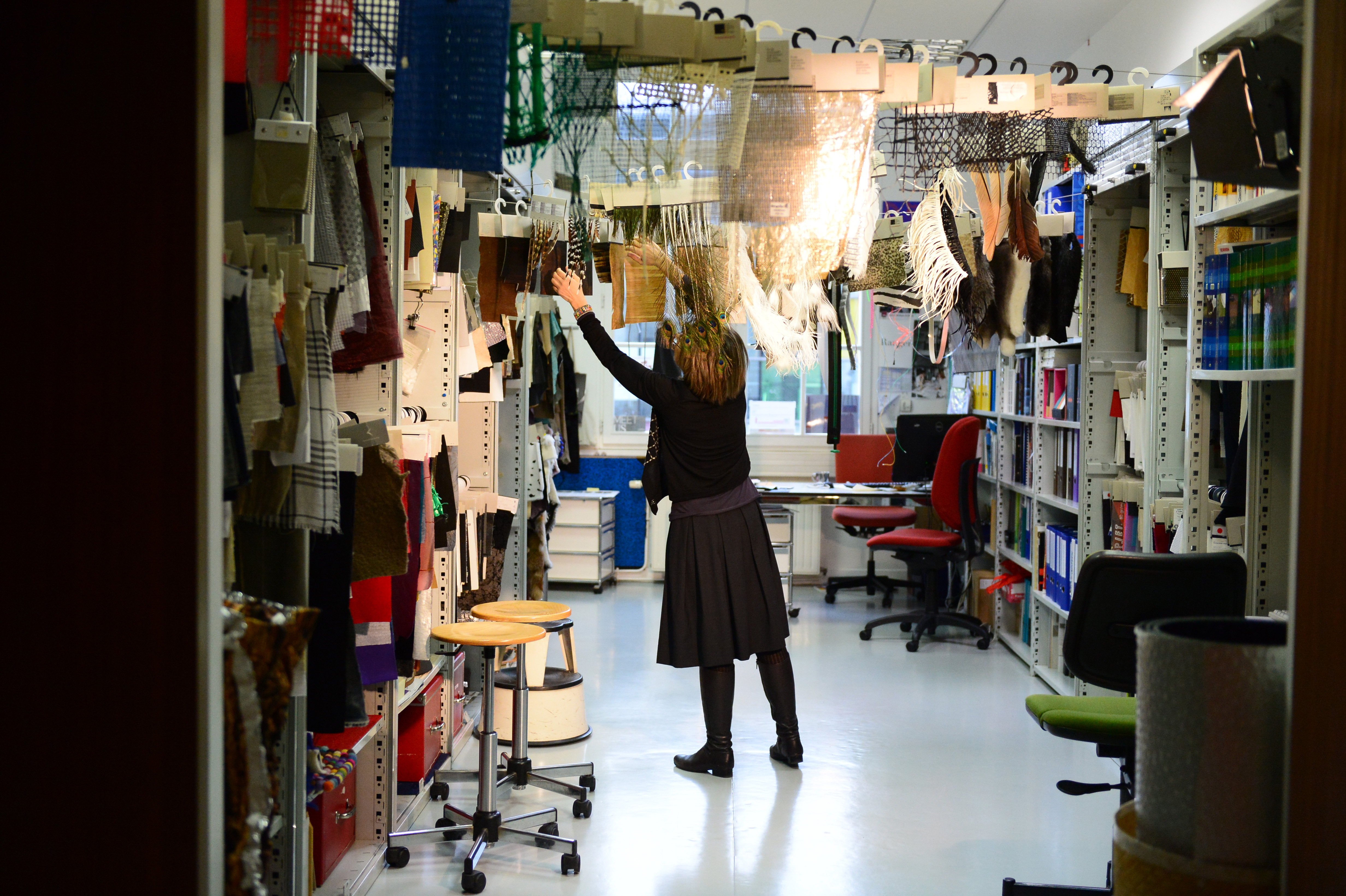 Together with her colleague, graphic designer Jean-Pierre Archetti, Humbert designed posters that were displayed around the EnsAD to keep students up to date with textile trade shows, sought after fabrics, and trends in the textile sector. These displays reached a wider audience within the school, and were met with enthusiasm by students pursuing courses in interior architecture, design, screen-printing and even animation. With such strong interest from across the disciplinary board, the textile library's collections grew and diversified until, in 2000, it officially became the materials library. In October 2015, the materials library was incorporated into the wider library system with a view to regrouping materials and documents together in a single resource centre.
Collections
Today, the materials library contains some 6000 industrial samples. Classic and basic textiles, leathers, papers, metals and plastics are catalogued alongside the latest material innovations, many of which are sourced from professional trade fairs in industries as diverse as sailing and building; the geographical origins of the library's collections are equally diverse. Some of the most remarkable samples include shark leather, felt produced from volcanic stone, cloth woven from boar hide, and flooring material consisting of recycled aeroplane tyres.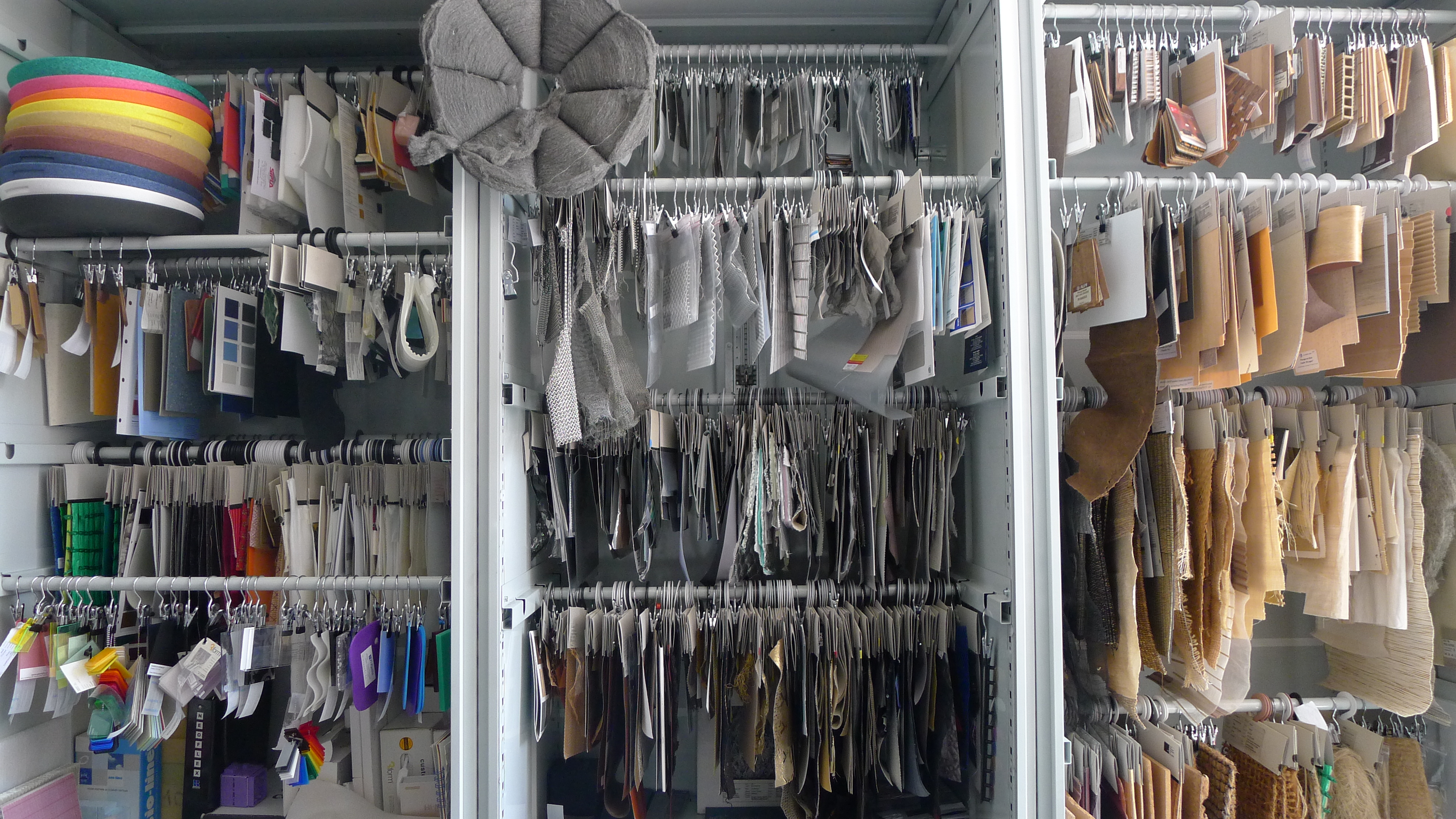 Since the early days of the materials library, flexible materials have held pride of place in the collections. With limited storage space and the impossibility of assembling an exhaustive collection of materials, this specialization in supple materials is both a practical and strategic choice for the library.
Isabelle Humbert is charged with renewing and expanding the library's collections, and works closely with students and educators at the school to understand their needs as well as seeking out innovative materials at trade fairs and salons.
Taxonomy of a Materials Library
The diverse array of materials in the library originate from numerous different areas of activity, each of which has a jargon all of its own; Isabelle Humbert worked for some ten years to develop a coherent system of cataloguing and indexing that would allow the library's users to navigate the collections.
Breaking with the means of classification most often used in materials libraries, wherein samples are sorted according to their use or uses, Isabelle developed a 'sensory' system that drew upon her own experience as well as other tools such as the nomenclature developed by Professor Jean-François Bassereau.
Samples are divided into various families, which are in turn sorted according to a 'sensory classification' based on a typology of appearances: metals and metal appearance, wood and wood derivatives, plastics, papers and paper appearance, textiles, leathers and faux leathers. The focus placed by this classification upon the appearance of samples implies that their texture and colour outweigh the composition of the material itself, with the aim of facilitating an 'intuitive' navigation by users.
This 'sensory' approach nonetheless allows for other approaches to the materials, which can be accessed according to their performance, the manufacturing techniques they entail, or even their environmental impacts.
Descriptors
As in any other library, each document is assigned a series of descriptors; in the case of the materials library, this information has been added progressively since the early days of the textile library in order to offer as comprehensive a characterization as possible to users.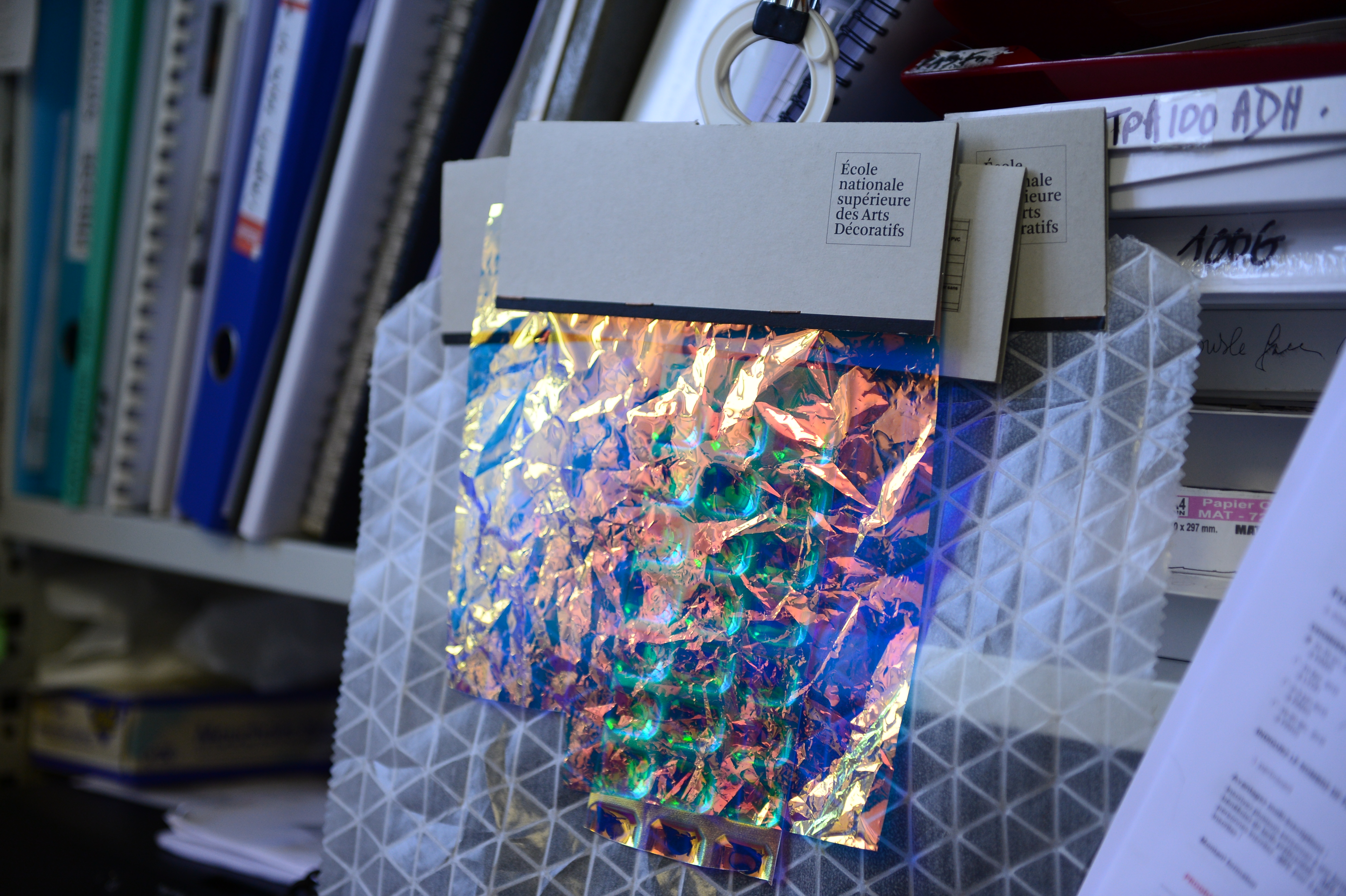 . Some descriptors are fairly basic, dealing with dimensions and colours; more complex descriptors reflect the commercial reality of samples, including their reference numbers, manufacturers, distributors, pricing, or even their trading format (whether a material is sold by weight, whether it is available wholesale or individually, etc.).
The uses, performance and characteristics of each sample are also detailed, while information as to materials' environmental and health impacts has progressively been added over the nineteen years of the library's existence. These latter descriptors facilitate the identification of 'low-impact' materials, as do the green hangers from which these more ecologically sound materials are suspended. Similarly, black hangers denote 'technical' materials, those reserved for industries or public entities.
The most original descriptors arise from the library's unique sensory approach to the classification; each sample is given a series of descriptors corresponding to one of its sensory aspects: its appearance, its texture, its sound and its smell. Appearance descriptors could thus include 'perforated' or 'matte-gloss' and texture descriptors might be 'fluid' or 'lukewarm'; sound descriptors are as diverse as 'dry' and 'subtle and sharp', while a material's odour could be described as 'fatty'.
Educational Mission
Beyond its offer of physical samples, the materials library also plays an important role in the educational mission of the EnsAD. Students can visit the library for information and advice as they realize their projects. As well as browsing the collections in the library, teachers and students can borrow materials for their research, their classes or their projects.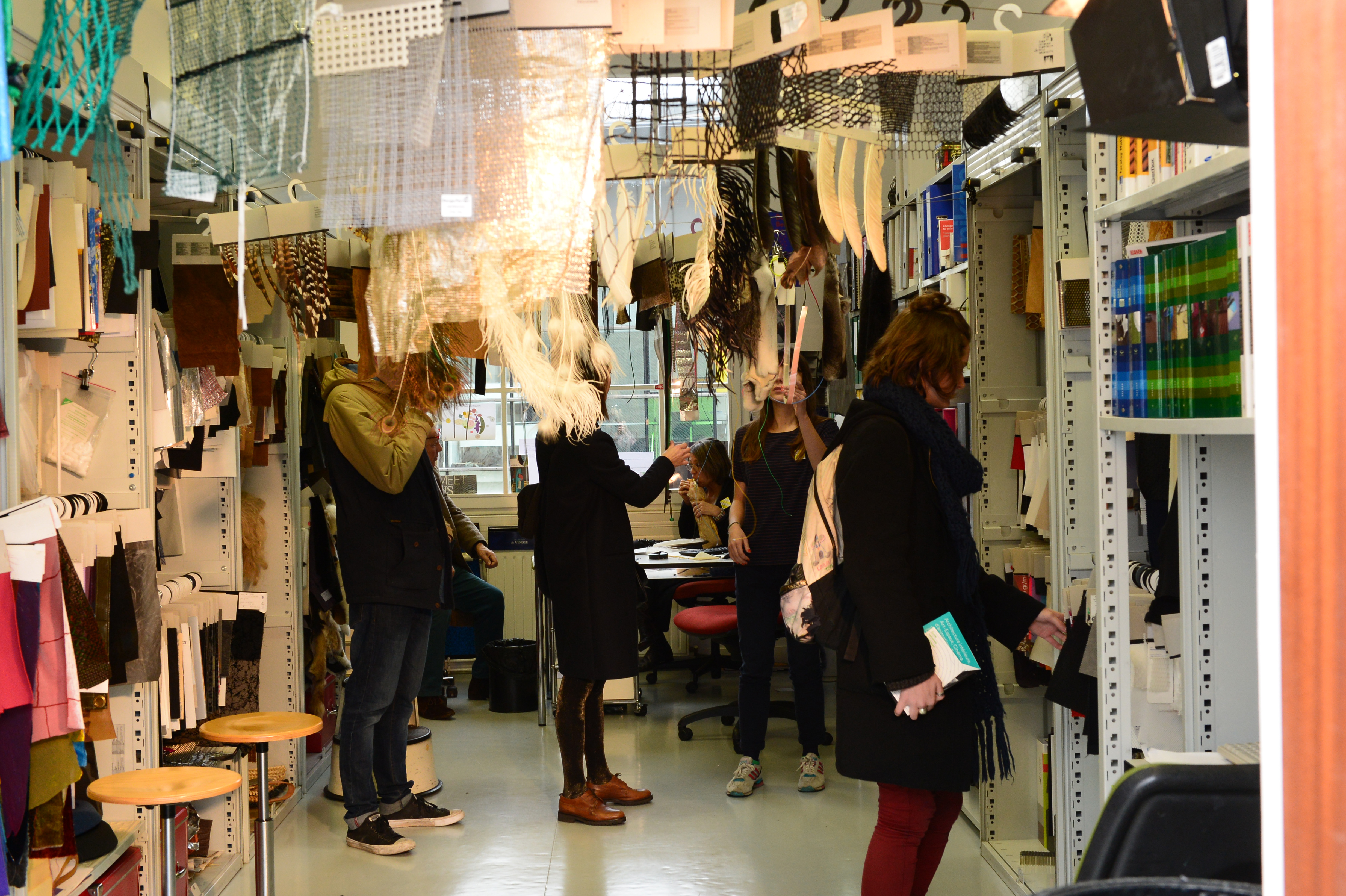 Since its early days as a textile library, the materials library has created documentary records which each focus on particular materials, norms or themes. These information sheets were posted in the school until 2013 and can now be consulted online.
The materials library also acts as an interface between students and the suppliers and manufacturers that Isabelle Humbert meets in the course of her exploratory work and acquisition of samples, and EnsAD students thus have access to the library's impressive address book.
Isabelle Humbert's sensory approach to cataloguing materials has provided the basis for training workshops which she organizes for groups of students, who in turn have worked to acquire an olfactory referencing system, the "Champ des odeurs©. This tool was created by the chemist Jean-Noël Jaubert in 1983 as part of a research program at the CNRS that focused on the relationships between the structure and the behaviour of odour molecules. In 2012, this group of students, 'the noses of the EnsAD', were awarded the industry-backed 'Nez d'Or' prize for olfactory research, and in March 2016, they will return to enter the competition once again. We wish them the best of luck!
The materials library will celebrate its 20th year in October 2017, just as commemorations for the 250th anniversary of the EnsAD will get underway, and PSL-Explore is very much looking forward to this double occasion
Practical information on the materials library can be found on PSL-Explore.