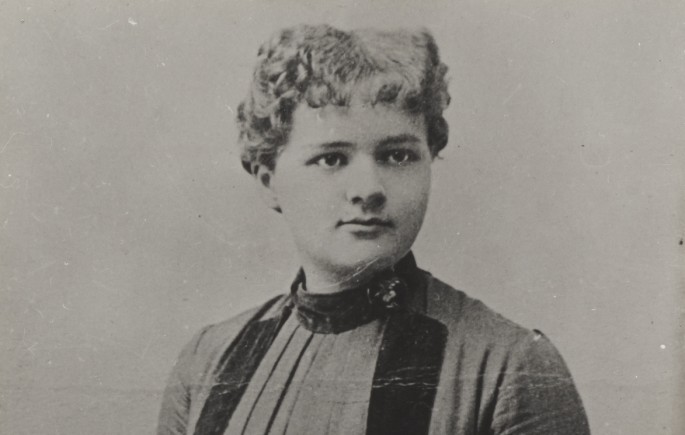 Chapter 1
From Warsaw to Paris (1867-1891)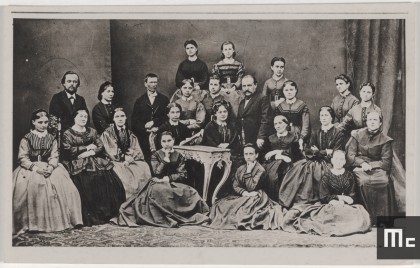 Wladyslaw and Bronislawa Sklodowski, Marie Curie's parents, surrounded by their students, at 16 Freta Street, Warsaw, Poland, 1860. Source : Musée Curie ; coll. ACJC / Cote MCP3
Maria Sklodowska was born on 7 November 1867 at 16 Freta Street in Warsaw, the capital of Poland, which was at that time occupied by Russia. Her father, Wladyslaw Sklodowski (1832-1902) was a mathematics and physics teacher, and her mother, Bronislawa, née Boguska (1836-1878), was head of one of the most prestigious boarding schools for girls in Warsaw.
The young Maria grew up surrounded by her elders. She had three sisters – Sophia, Bronislawa and Helena – and a brother – Josef. As the youngest of five, Maria enjoyed a happy childhood, until January 1876 when her eldest sister Sophia died of typhus. Two years later, on 9 May 1878, she lost her mother to tuberculosis. It was at this point in her life that the young Maria turned her back on religion.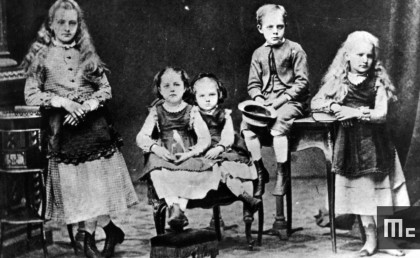 The Sklodowski's children : from left to right Sophia, Helena, Maria, Joseph et Bronislawa, 1872. Source : Musée Curie ; coll. ACJC / Cote MCP 5
Encouraged by her parents, who were themselves both teachers, the young Maria had a traditional education, starting at the Sikorska boarding school, from 1877 to 1882, then at the gymnasium, the equivalent of secondary school.
Maria was a brilliant student who excelled in all subjects. She was awarded a gold medal upon completing her secondary education in 1883, as were all her brothers and sisters.
Keen to use her intellect to fight against the Russification of society, she started to follow secret underground classes held in apartments designed to educate, in particular, young Polish women. It was known as the "floating university".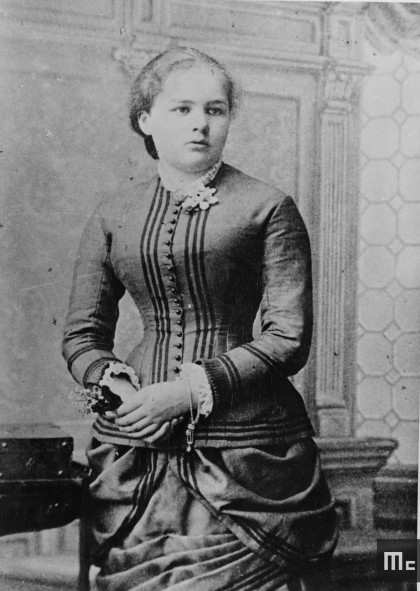 Maria Sklodowska in 1883. Source : Musée Curie ; coll. ACJC / Cote MCP25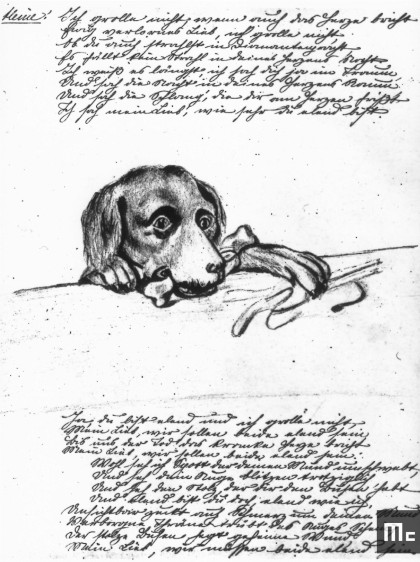 Extract from Maria Sklodowska's diary. The sketch depicts Lancet, the Sklodowski children's beloved pointer, circa 1886. Source : Musée Curie ; coll. ACJC / Cote MCP37
At that time, Maria hoped to continue her higher education and attend a proper university. However, this was unfortunately not possible for a young woman in the Russian-dominated Warsaw.
Maria was fluent in French (as well as German and Russian) and she dreamt of studying at the Sorbonne in Paris, as it accepted women who had passed their baccalaureate or foreign equivalent.
The Sklodowska sisters' pact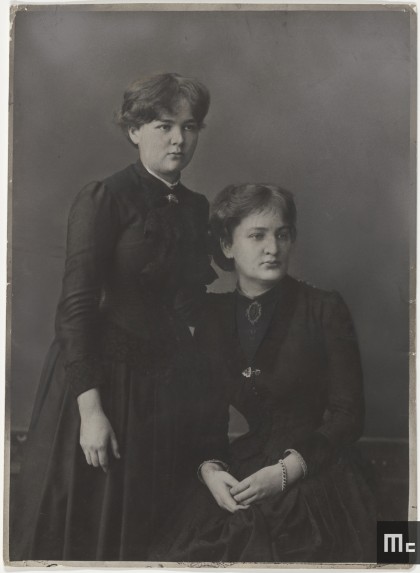 Maria Sklodowska and her sister Bronislawa in 1886. Source : Musée Curie ; coll. ACJC / Cote MCP42
However, moving to Paris would be very expensive, and Maria's father could not afford this alone, especially as Bronislawa also wished to move to the French capital to study at the Faculty of Medicine.
The two sisters made a pact – Maria would accept a job as a governess and save money to pay for her sister's education in France. In return, once Bronislawa had become a doctor, she would pay for her younger sister's tuition.
his was how Maria came to give private tuition to the children of middle-class families in Warsaw.
She became governess to the children of the Zorawski family in the village of Szczuki, 5 miles north of Warsaw, between 1886 and 1889.
During this prolonged stay away from her family, Maria fell in love with the family's eldest child, Kazimierz Zorawski, a brilliant mathematician of the future and just one year her elder. Unfortunately, because of the great difference in social status, the Zorawski family were against the marriage.
Kazimierz Zorawski, ca 1888. Source : Musée Curie ; coll. ACJC / Cote MCP45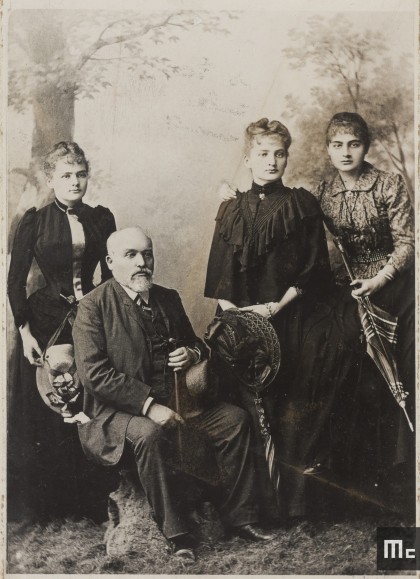 Wladyslaw Sklodowski and his daughters in 1890 (from left to right: Maria, Bronislawa and Helena).1890. Source : Musée Curie / Cote MCP53 /Rights : Maria Sklodowska-Curie Museum de Varsovie
Maria went back to live with her father and continued to work as a private tutor. One of her cousins authorised her to come and conduct a few experiments in a laboratory at the University of Warsaw, so that she could apply the scientific knowledge she had continued to accumulate.
Nevertheless, Maria began thinking more and more about the possibility of foregoing her education to devote her life to her family. It was at this point that her sister Broniswlawa intervened and encouraged Maria to join her in Paris and start a new life.
About
This virtual exhibition has been created as a natural prolongation of the travelling exhibition "Marie Curie 1867-1934". Arranged by the Musée Curie in 2011 for the International Year of Chemistry, the exhibition serves to commemorate the centenary year of Marie Curie's Nobel Prize in Chemistry. 
Translated in several languages, the exhibition has travelled continuously throughout the world. For further details on how to book the exhibition, click here.
Credits
The exhibition has been arranged by the Musée Curie, with support from the Foreign and European Affairs Ministry, the Association Curie Joliot-Curie, the Institut français, the Institut Curie and the National Center for Scientific Research CNRS.
All images are provided by the Musée Curie's archives.
Arrangement of the Virtual Exhibition  
Xavier Reverdy-Théveniaud
With help from​
Annael Le Poullennec and the team at the PSL Resource and Knowledge department